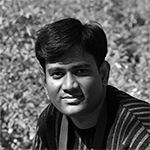 Anil Kumar Ranganatha
Anil Kumar Ranganatha is an ardent nature admirer, who loves music and photography. A techie by profession, He hails from Bangalore where one day he was introduced to photography by one of his friends. Since then, walking the trails of nature with a camera in hand has become more of a second nature for Anil.
Nature Strands – Is an initiative to bring out the beauty and diversification of mother nature through my imagery! Going by the adage "images speak thousand words", wish to enrich the life and appreciate the intrinsic values of nature through the images by keeping the welfare of the subject as top priority.
Anil cannot imagine anything else that could provide a state of self satisfaction and happiness other than relishing and sharing the different expressions of nature. He believes in "Nature is the art of God", and is constantly trying to enhance the 'way of seeing and capturing' this natural art around him in the form of images. Further to enhance the inner aesthetic sense of the eternal by creating Fine Art Photography of scenes in nature.
There are many ways to make 'images' and there are many ways to 'see'. The images made by Anil come from whole lot of passion and experience felt by heart with the scene in the time-wrap of mother nature. By embracing light, by arresting the natural moments of nature Anil presents his work in the form of imagery chain to this world. To bring these moments to you in the form of the images Anil uses a wide range of tools, inclusive of a very high quality Canon DSLR body.
My Tools:
Canon DSLR 5D Mark II
Canon 300mm F4.0 L IS USM
Canon 70-200mm F4.0 L IS USM
Canon 17-40 F4.0 L USM
Canon EF 100mm F2.8 Macro USM
B+W 77mm Circular Polariser Filter
Canon 1.4X TC
Feisol CT-3371 CF tripod
Arca Swiss Monoball Z1 single pan ballhead
Anil Kumar Ranganatha has also ventured in co-founding of
Landscape Wizards
a team of passionate landscape photographers. Anil Kumar Ranganatha has also contributed his work to the world's leading conservation organization,
WWF
/ worldwildlife.org
Thanks for taking time and dropping by, if you would like to comment about NatureStrands or make inquiries about any of Anil's images, you can contact him through
Contact Form
or mail him "anil at naturestrands dot com"
[/four_fifth_last]